Recent Publications
These books can be obtained direct from the author or through www.daystarbooks.org, unless otherwise stated.
Special deals can be negotiated for two or more copies of a single title or for multiple copies.
Payment options will be provided.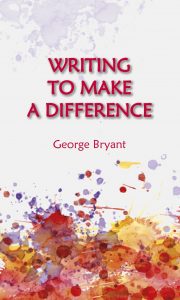 WRITING TO MAKE A DIFFERENCE
This 36-page booklet has been written for those who write from a Christian world view.
It discusses the need to reach out to the wider community through writing, to be 'salt and light' to the world. The power of one can have a big influence.
Write with a mission. Eleven suggestions for action.
If you are a Christian author contact us for a FREE copy.
Otherwise, it retails for $5.


NEW! BIG QUESTIONS OF LIFE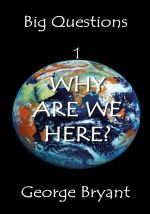 WHY ARE WE HERE?


What in the world are human beings doing on this unique planet?

$7 (20pp)
---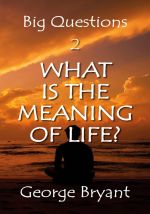 WHAT IS THE MEANING OF LIFE?



Is there an overall, inherent meaning for our existence on Earth or do we just have to find our own?

$7 (24pp)
---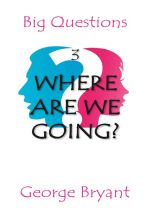 ---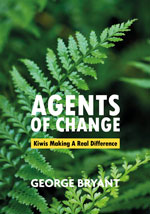 AGENTS OF CHANGE
Kiwis Making A Real Difference



The stories of 15 inspirational Kiwis who are making a real difference to the way we live.
Some are making housing affordable and offering offering comprehensive care services. Others are saving teenagers from addictions. A doctor and his wife are running a unique medical clinic.
Some stories portray people improving race relations, making workplaces safe, and helping transform low socio-economic areas.
What motivates these people to want to improve society? What sorts of people are they? The last chapter outlines the characteristics of change agents.



212 pages, 46 pictures
Published by DayStar Books, 2018
Retail Price: $28.95 plus $5 postage.
Available from the author, bookshops or order online from DayStar Books
---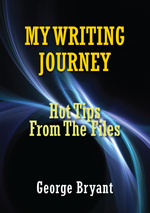 MY WRITING JOURNEY
Hot Tips From The Files



The personal story of how a student who hated writing essays became a prolific, successful author. A glimpse into George Bryant's writing failures and successes, with 38 useful tips for potential writers.



46 pages, white offset, gloss cover
Published by Whau Publications, PO Box 7031, Maungatapu, Tauranga 3112
Retail Price: $10.00 plus $5 postage.
---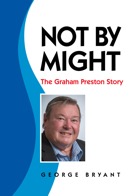 NOT BY MIGHT
The Graham Preston Story



The biography of the inspirational, visionary founder of Bethlehem College, Tauranga – the largest school of its kind in Australasia. Graham was also instrumental in establishing a number of other Christian schools.



234 pages, 25 pics, white offset, gloss cover
Published by DayStar Books, 2016
Retail Price: $26.99 plus $5 postage.
---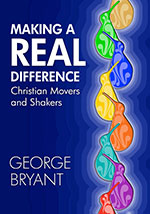 Making a Real Difference
Christian Movers and Shakers



Christians have made a positive difference to our nation since its foundation.
Motivated by faith they have put a human face on the principle of 'loving your neighbour'. They have protested against injustices and gone the extra mile.
This book outlines the profiles of a few of the thousands of Christians who are moving and shaking New Zealand today, including a judge, leading scientist, social worker, journalist, city councillors, doctor, educationist, racing driver, businessman, youth worker, prison reformer, city missioner, and navy commander.
Read about why and how they are making a real difference among the poor, with at-risk youth, in housing, the media, education, health, parenting, business… and across the community.
As a country we are much the richer because of them.
What some have said about MAKING A REAL DIFFERENCE



"Essential reading for anyone interested in social change in New Zealand…You won't be able to put it down." (Rev Jim Wallace, Tauranga)
"A must-read for anyone who wants to know what the Christian life looks like." (Duncan Pardon, former editor of The Baptist and publisher off the Pohutukawa Coast Times)
"Very inspiring and encouraging. Brilliant." (Ruth Boswell, Auckland Wesleyan minister)
192 pages, 21 pics, white semi-gloss, gloss cover
Published by DayStar Books, 2015
Retail Price: $27.99 plus $5 postage.
---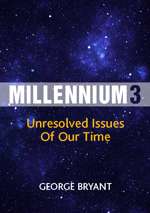 MILLENNIUM 3
Unresolved Issues of Our Time


Do you think there is too much political correctness? What can we do about the widening gap between the rich and the poor? Why are so many families breaking up? What can we do about violence in our society? Are we racist? Are you worried about the rise of 'big brother' and the invasion of your privacy? Do the moral issues surrounding the latest experiments in baby-making concern you?
George probes these and other issues which plague NZ society, hurt so many people and cost the country billions of dollars. He comes up with some startling facts and results. He provides valuable insights and solutions, and outlines the need for a new kind of politics, and an urgent concentration on the 'third dimension' of human beings – their spirituality.
"As usual, his chatty writing style, occasional anecdotes and thorough research make for a thought-provoking but easy read." (NZ Baptist)
"George tackles key social issues head on, and with vigour…He passionately and cogently spells out the problems and their negative impact on us, while backing up his opinions with evidence from research. Millennium 3 is well-researched and packed with challenging facts that should cause its readers not only to think seriously about these current issues but also about doing something about them. As George says, "Even a tiny change for the benefit of others will make a difference for someone somewhere.

" The book will appeal to a wide range of readers." (Janette Busch, author and editor)
212 pages, white offset, gloss cover
Published by DayStar Books, 2013
Retail Price: $27.99 plus $5 postage.
---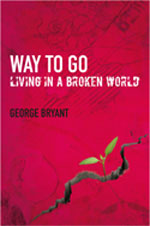 Way to Go
Living in a Broken World



What is the way to go in the 21st century? How can we live better? How should we treat each other?
George examines the main sayings of the greatest teacher in the world about how to relate to one another. He examines what Jesus Christ really said about how we should live.
He concludes that if we were more radical in our thinking and behaviour our lives and those around us could be transformed.
This book is for everybody. It is very readable, eye-opening and challenging.



What Some Have Said About WAY TO GO



Bryant lays out teaching which can bring healing and transform lives and communities." (Glyn Carpenter, National Director, Vision Network)
"An inspiring and immensely practical book which challenges us to hear afresh what the teaching of Jesus Christ means in the 21st century." (Paul Trebilco, Professor of New Testament Studies, Otago University)
"This book makes a compelling argument for taking Christ's teaching seriously, and is admirably clear and easy to read." (Rodney Macann, NZ Baptist National Leader)
"The best book about how to live to come out of the NZ Church – and it's written by a Kiwi!" (Rev Jim Wallace, Tauranga)
198 pages, white offset, gloss cover
Published by DayStar Books
Retail Price: 23.99
---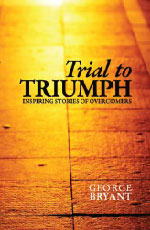 Trial to Triumph
Inspiring Stories of Overcomers



What is it about the human spirit that enables people to overcome great personal disasters, and move on to help others?
How do you cope when you are born with cerebral palsy or spina bifida, or paralysed as the result of an accident or contract a terminal disease or go blind?
Here are stories of ordinary people who have struggled against the odds and not just survived but overcome. The book examines the 'undaunted human spirit' and what motivates people to triumph over their trials.
You will be inspired. You will identify in some way with the stories you read. You will find practical ways of dealing with life's traumas. And you will wonder at the amazing resilience of the human spirit.



What Some Have Said About TRIAL TO TRIUMPH



"An uplifting and tremendously encouraging read." (Garth George, NZ Herald columnist)
"An inspirational best. We are uplifted by the experience." (Owen Brown, Hawke's Bay Today)
"Very gripping reading. A good choice to give someone needing a more positive outlook on life." (Ian McCleary, Challenge Weekly)
"A must read." (Omega Writers, Australia)
232 pages, white offset, gloss cover
Published by DayStar Books, 2010
Retail Price: $29.95
---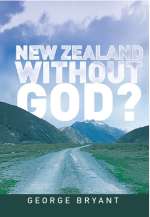 New Zealand Without God?



God is gradually disappearing from the New Zealand social scene in favour of secular, neo-pagan beliefs and practices. If we project present statistical trends Christianity will be only a small rump by the middle of the 21st century. Yet our society has been influenced considerably by Christian values throughout its history.
What would happen to our society if Christian values were wiped out? How would we live? Would secular atheism rule, or Buddhism or Islam or what?
George makes a plea for a renewed, better society based on a set of six core values, values with which all social groups could agree. They provide the key to developing a 'good' society. What we need is the collective will to implement them.



What Some Have Said About NZ Without God?



"A landmark book which asks the awkward questions we tend to shy away from." (Bernard Moran, journalist)
"An insightful and unflinching examination – a challenge to all New Zealanders." (Arts Centre, Christchurch)
Published by Whau Publications, PO Box 7031, Maungatapu, Tauranga 3112
Retail Price: $25
---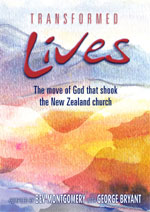 Transformed Lives: The Move of God That Shook the New Zealand Church – Bev Montgomery with George Bryant



First-hand accounts from people involved in the rise of the charismatic movement in NZ churches during the 1960s and 1970s.
Published by Castle Publishing. Available from Castle, PO 12577, Penrose, Auckland 1642
Price: $24.95
---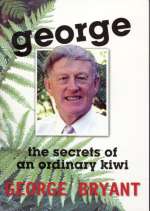 George – the secrets of an ordinary kiwi



The autobiography of an ordinary Kiwi who became a political leader, high school principal, city councillor, ordained minister, Justice of the Peace, prominent Rotarian, author, publisher ….and more.
All who have read it have said it is 'hard to put down'!



What Some Have Said About GEORGE



"A well-written recording…from humble beginnings to a life of achievement." (Hon John Banks, former Minister of Police and Mayor of Auckland)
"An easy writing style takes the reader on a personal, entertaining and thought-provoking journey." (Frank Leadley, former president of NZ Secondary Principals' Association)
"A record of a life well lived…an inspiration." (Peter McNee, CEO World Vision NZ)
216 pages, white offset, gloss cover
Published by DayStar Books, 2000
Now retails for $20.00
---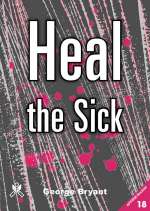 Heal The Sick



This 42-page booklet provides practical help on how to go about healing the sick, from a Christian perspective, stemming from George's personal involvement in the ministry over recent years. He gives cases of actual healings and gems of wisdom. Some key questions are answered, such as: Why does God heal people today? Why are some people not healed? What do we actually do when we pray over someone? What about the terminally ill?
George has written further publications in the same series: Euthanasia (1997, to be updated); Signs, Spells and Spooks (Christians and the occult 1999); Is There Life After Death? (2000)
He was general editor for another15 booklets.



Published by AFFIRM Publications, 2005
Price: $9.95
Limited Numbers of the Following Titles are Available
Pathways of Hope (the story of World Vision, NZ) Dunmore Press, 1996
Fifteen Years of Progress at Whangarei Girls' High School, Dunmore Press, 1994
Tourism:Towards a Policy for Whangarei, Whau Publications, 1989, 20pp
Birthright: a story of people who care, Dunmore Press, 1988
The Church on Trial, Whau Publications, 1986
Is Life Not Sacred Any More? (The morality of the new biology), Whau Publications, 1986, 40pp
The Sting in the Beehive (edited extracts from speeches made by Social Credit leaders over the decade 1972-82), Dunmore Press, 1982
The following titles are out of print but available through libraries.
Twelve Plus: Girls in School (the education of adolescent girls), Dunmore Press, 1990
Beetham (biography of Social Credit Leader), Dunmore Press, 1981
New Zealand 2001(a glimpse of NZ life 20 years ahead), Cassell,1981
Four New Zealand One-Act Plays (ed), Stockton House, 1978
The Pop Scene (Life/Language Series), Hodder and Stoughton, 1973, 16pp. George was a panel member for four other booklets.
You and Your Environment (ed), New Guardian Publishing Co., 1973, 28pp
The Widening Gap (poverty in NZ), Cassell, 1979
Additional
Other booklets
Why a Wesleyan Movement? (1998)
Right of Reply (1998)
Inclusiveness – a Christian Virtue? (1998)
Out of the Ashes (a school fire and its aftermath),1986
Two Sermons (Jesus – a Political Revolutionary? and The Morality of Debt and Usury) 1977
English in NZ (co-edited 20 volumes for English teachers) – Heinemann published 5 and Stockton House 15
Guide to English Books, Heinemann, 1974 and Stockton House, 1977
Numerous political pamphlets, editions of manifestos, articles for newspapers and magazines on a wide variety of topics, such as euthanasia, the Church, the economy, politics, culture, education.
Why Write?
I've always had an insatiable desire to help improve society. I write, and publish, to inspire – to enable readers to think about and clarify what's happening to the world around them and their place in it, always attempting to provide suggestions for moving forward. Disagree if you wish, but if only one person gains benefit from anything I write my spirit is content.